The Czech Republic is the 45th largest growing ecommerce market. Its CAGR is projected to grow by 9% (2023-2028).
In the Czech eCommerce market, the number of users is expected to amount to 7.4m by 2027.

81% of consumers opt for organic foods through online platforms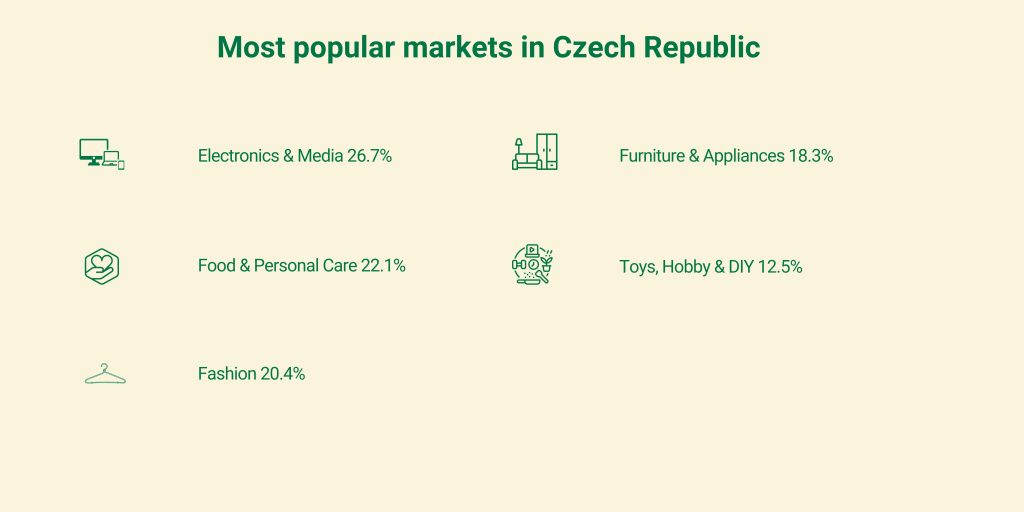 International retailers can take advantage of the Czech market by offering a wider range of products, more delivery and payment solutions than local businesses. Even if the trend of COD (cash on delivery) payment method is still the most popular, with cash transactions constituting 36% of all ecommerce payments, international vendors should focus on offering card payment solutions, as these are projected to grow in the years. Also if Click and collect remains the preferred delivery option, express courier services are also growing in demand. By ensuring secure digital payment methods and prompt deliveries, international traders can distinguish themselves in the Czech ecommerce landscape.
Czechs are increasing their cross-border shopping to have access to a wider range of products that are still unavailable locally, as well as more attractive pricing. The most popular international ecommerce purchases for Czechs are digital gadgets, apparel, jewelry, watches, and beauty products. Having recognized this growing demand, Breuninger, a German-based fashion and lifestyle retailer, launched its online store in the Czech Republic offering delivery within 3 to 5 days.
Czech Republic Market Leaders
Alza.cz
Alza.cz is one of the most popular online retailers in the Czech Republic, Slovakia and other parts of Europe. The company offers a wide range of products, including electronics, computers, home appliances, toys, and beauty products.
Notino, SRO
Notino, s.r.o. is a popular marketplace that specializes in fragrances, beauty, and personal care products.
Mall.cz
Mall.cz specializes in selling electronics, home appliances, fashion, toys, beauty products, and much more. It is a popular e-commerce platform in the Czech Republic and has expanded its operations into other Central and Eastern European countries. 
Aukro SRO
Aukro offers a diverse range of product categories, including electronics, fashion, home and living, sports, and travel.
Rohlik.cz
Leader in e-grocery, the company offers fast and timely delivery, boasting a vast assortment of products at convenient prices. Customers can expect deliveries within 60 minutes or within 15-minute same-day time windows, with over 17 000 items to choose from and prices in line with brick-and-mortar competition.