Mobile commerce is becoming one of the most popular online shopping methods and is determining the future of ecommerce. This is why it is important that companies know how to make the most of this shopping experience and adapt to the needs of consumers in order to remain competitive. In this article we will discover together what mobile commerce is, the trends to keep an eye on in 2023 and the benefits of this shopping method for your business.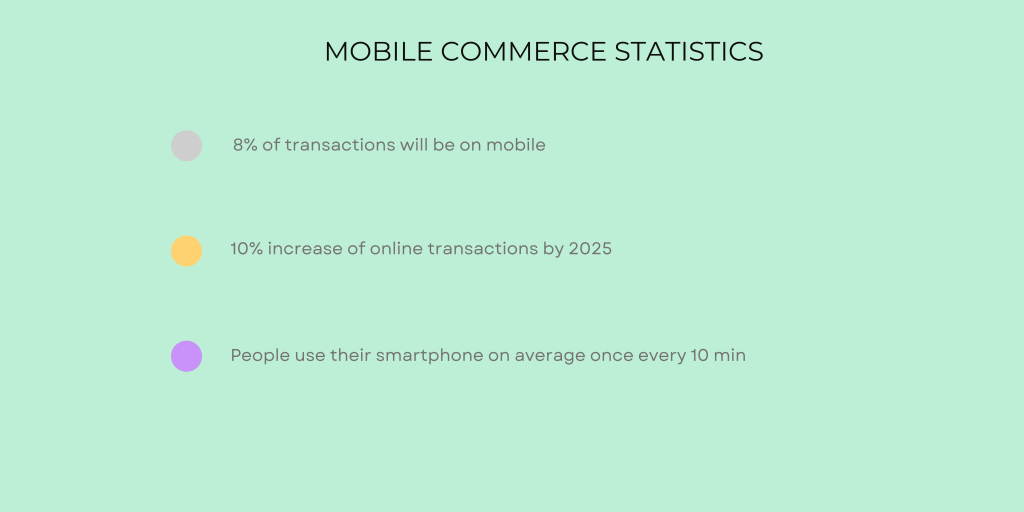 Difference between mobile commerce and ecommerce
The main difference between ecommerce and mobile commerce (m-commerce) is the device that is used. In fact both have to do with online shopping but mobile commerce refers to purchases made exclusively on mobile. This means that the entire experience is adapted to the medium, from user experience to marketing strategies.
Mobile commerce trends in 2023
Mobile payments
Convenience, comfort and speed are the keywords when it comes to online shopping. Mobile payments definitely meet these needs precisely because they represent one of the best solutions in terms of shopping experience. Indeed PayPal, ApplePay, GooglePay, SamsungPay etc. allow users to make payments safely and quickly, with all necessary payment information stored on the mobile device. In this way it is not necessary to carry credit cards with you and the entire payment process becomes more immediate.
One-Click purchase
By now we have understood the importance of making the checkout process fast and easy. 17% of users abandon their cart if the checkout phase turns out to be too complicated. If online retailers want to encourage mobile shopping, they need to make checkout as simple and seamless as possible. Let's see how.
First of all, favour one-click ordering, i.e. avoid forcing people to re-enter personal information or payment details at check-out. In fact, it is more convenient to allow people to choose mobile payment apps such as PayPal, ApplePay, SamsungPay, AndroidPay etc. Express checkouts are so easy and straightforward that they have a 1.91x higher success rate than traditional checkouts.
Social commerce
Social commerce refers to online purchases of products and/or services made directly on social media apps, without having to redirect users to external websites or links. The growing popularity of platforms such as Facebook, Instagram and TikTok has naturally revolutionized online shopping, with more and more brands increasing their social presence in a substantial and structured way, promoting their products and, consequently, giving consumers the opportunity to carry out purchases directly from the feed.
People spend an average of 2 hours on social networks every day and for this reason, showing their products in these apps and allowing users to make purchases with the native experience of the social network, without having to interrupt the customer journey, proves to be a huge advantage . This is in fact essential to increase conversions because people can make purchases quickly and with just a few clicks, without leaving the social media and making the process a lot easier.
Considering that just TikTok is one of the most downloaded apps, with 85 million users, it goes without saying how important it is for brands to integrate the shopping experience into these platforms as well. This would lead them to reach a wide range of consumers and grow their online presence, as well as credibility.
Social commerce is an opportunity for brands to manage the customer experience and the relationship with customers in a much more connected way, capturing them with their uniqueness and identity, compared to other impersonal shopping experiences that favor price instead of the image, the way of communicating and so on. This different interaction creates a more engaging shopping experience and encourages consumers to choose one brand over another in a much more conscious and lasting way.
Mobile app
Smartphones have become an integral part of people's daily lives and, precisely for this reason, having your own dedicated mobile app allows you to already be on the homepage of a potential customer without forcing the user to search via the browser. This is undoubtedly a huge advantage and can make all the difference.
Mobile apps allow you to offer a personalized and fast shopping experience to your clients, wherever they are. The benefits of having a dedicated app include the ability to shop and track an order from a single interface, save favourite products and receive personalized notifications. Furthermore, precisely because the app experience is simplified, the percentage of cart abandonments in mobile apps is only 20%.
VR/AR
Augmented reality and virtual reality are becoming increasingly popular in ecommerce as they offer consumers an ever more immersive and realistic shopping experience. Just think of IKEA, Amazon or Sephora who have already adopted these technologies to allow consumers to virtually try on products or visualize how the furniture could look in their homes before making a purchase. These innovative functions significantly reduce returns because they display products in a more detailed and realistic way, imitating the shopping experience in the physical store, or even improving it.
Voice assistant
Voice searches and vocal shopping are becoming increasingly popular thanks to the growing use of smart speakers like Siri and Alexa. Consumers search for products, compare items and find information much faster, without the need to type.
It is therefore really important to optimize your website and apps to make them voice-search friendly, especially since it is expected that ecommerce turnover could grow by 30% thanks to voice searches. In this way your landing pages or your products will appear in searches depending on the keywords used by people and everyone will be able to browse your catalogs and make purchases much more easily.
Accessibility
Technology has made online shopping accessible to a wider audience, and it's really important to make the online and mobile experience of your site and apps accessible to people with disabilities as well. It is therefore important to consider the layout of the page, the size of the fonts and include audio options for the visually impaired. Also, make sure that multimedia contents are compatible with assistive technologies and that you have the option of enlarging the texts and adjusting parameters to allow everyone to access the services you offer effectively.
Advantages of mobile commerce
Convenience
Consumers can shop anytime, anywhere with their smartphone, without being tied to a desktop computer or physical store. Precisely because we carry the smartphone everywhere, having a mobile-optimized experience is essential to increase purchase opportunities.
Faster transactions
Shopping via smartphone is quick and allows you to complete the purchase process much faster in just a few clicks.
Analytics
M-commerce allows online merchants to access detailed analytics on location, gender, age, interests and other demographic information useful for effectively targeting promotions and offering personalized purchase suggestions based on customers' preferences. This is a huge advantage because it allows to increase sales and retain customers more easily.
More direct communication
Among its many benefits, mobile commerce encourages more direct communication with customers. Thanks to social media engagement and personalized promotions, this medium has the potential to make brands interact with customers in a much more authentic way and therefore to cultivate a better relationship with their customer base.
Conclusions
Thanks to the growing popularity of mobile commerce, online retailers can take advantage of the numerous trends that this medium offers them, thus increasing future sales and cultivating a much larger, loyal and aware customer base.
Want to make the most of your mobile experience?
Thanks to our innovative and cutting-edge technology, you will have access to a wide range of features that will allow you to offer your customers the speed and flexibility they are looking for.