In today's fast-paced world, expecting high levels of convenience and efficiency is the norm.
On the one hand, companies compete more and more in innovation and in offering faster services and this induces consumers to evolve their expectations accordingly. On the other hand, people have stressful lifestyles and consequently less time to dedicate to daily activities. Therefore, knowing that you can count on fast services allows you to improve the quality of life, managing time and resources better.
The world of ecommerce, linked to technology and innovation, has to satisfy customers in terms of speed and convenience, especially if you want to remain competitive.
In this article, we'll explore the benefits of offering fast delivery and how they can boost your ecommerce business.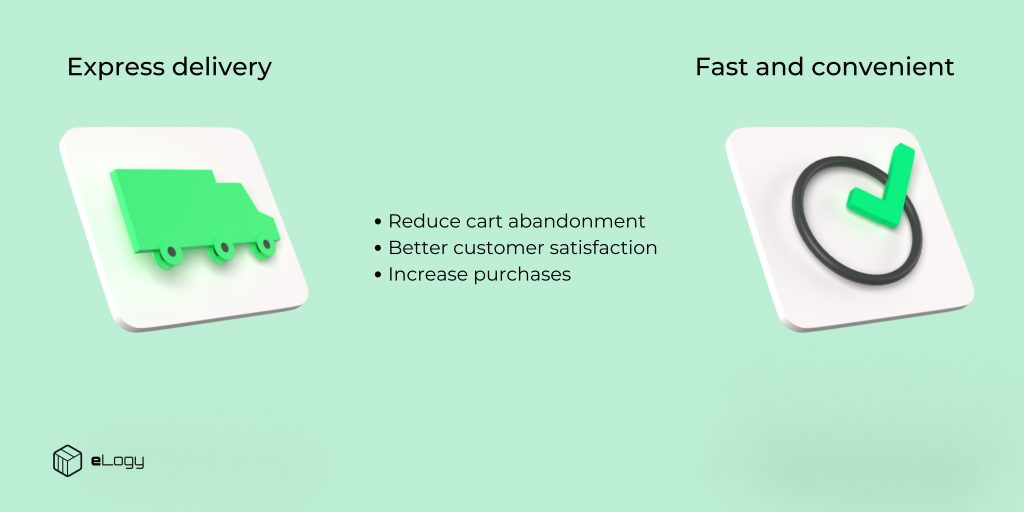 1. Market expansion
Having fast shipping times means attracting a much wider range of customers. Indeed, if your online store delivers same day or next day, it will be able to attract all those people who need, for example, last minute gifts or urgent items. This translates into meeting or even exceeding customer expectations, increasing sales and strengthening your reliability and reputation in the industry.

2. Encouraging impulse purchases
Fast deliveries leverage instant gratification, thus encouraging all impulse purchases. When customers know that they can receive the items they want very quickly without having to physically go to a store, they will be more inclined to buy something without thinking too much. On the contrary, knowing that they will receive the desired item only a few days later will inevitably lead them to consider their purchase decision more carefully, and will be more likely to give up on it or look for alternatives.

3. Better customer satisfaction
Who runs an ecommerce knows how important customer satisfaction is to maintain a good reputation in the industry and be successful. Offering fast deliveries means improving the shopping experience. Customers will be satisfied or even pleasantly surprised by the efficiency of the service. This translates into positive feedback, repeated purchases, loyalty and, ultimately, greater confidence for new customers who discover your ecommerce.
4. Competitive advantage
Many businesses compete for the same customers. This is why it is important to stand out, first of all in the efficiency and convenience of the services offered. When consumers can choose between several alternatives, they will always choose those who offer faster delivery.
5. Reduced cart abandonment
Did you know that one of the most common reasons for abandoned carts is "Delivery too slow or not on time?" According to the Baymard Institute, in fact, 22% of people usually show interest in products, adding them to the cart, but don't complete the purchase. You will agree that, over time, this means a loss of potential customers and therefore of earning opportunities. It is essential to avoid this type of situation, responding adequately to the growing demand for fast deliveries. Logistics is indeed crucial for an ecommerce. Also remember that, to reduce the cart abandonment rate, it is necessary to combine the speed of shipments with:
Transparency: clearly communicate delivery times and return policies
Flexible Shipping Options: meeting the needs of different customers is the key for growth. Offer multiple shipping solutions, such as standard home delivery, express delivery or pick up points.
6. Reinforced brand image
The idea that customers have of your brand is important because it directly affects their purchasing decision. Offering fast deliveries means conveying a solid and reliable brand image, highlighting excellence with a single service. If customers associate your brand with speed and reliability, you'll set yourself apart from your competitors in the industry, increase the perceived value of your products, and grow your audience.
Conclusions
Offering fast delivery has several competitive advantages that will improve the market positioning of your ecommerce. Investing in express delivery services will give your customers the speed and convenience they desire, improving the quality of their shopping experience and ultimately the popularity of your business.